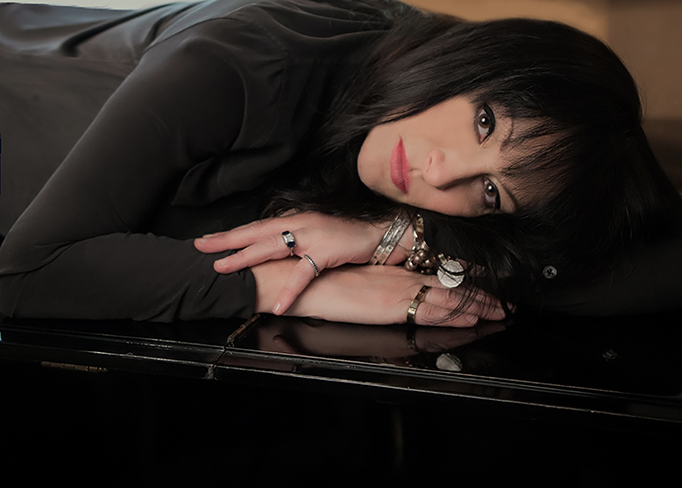 Holly Knight has had a wild 36-year ride in the music business that ignited when she first met songwriter/producer Mike Chapman with her band Spider in 1982. Citing Chapman as her mentor, together, they penned Spider's single, Better Be Good To Me, which music icon Tina Turner recorded six months later on her 1984 multi platinum album, Private Dancer. It won a Grammy for Record of The Year. Knight's meteoric rise to success continued when she wrote the chart-topping, Love Is A Battlefield and Invincible for Pat Benatar, The Warrior for Patty Smyth, Change for John Waite, Baby Me for Chaka Khan, Never for Heart and Pleasure And Pain for Divinyls. All together, she has written ten songs for Turner, including, The Best and Wildest Dreams, both signature songs for the legend. Knight's songs have appeared on records totaling over 530 million in record sales. Knight's songwriting has earned her numerous awards including three Grammys and thirteen ASCAP songwriter awards. In June, of  2013, the songstress was  inducted into The Songwriters Hall Of Fame.
A New York City native, Knight started studying classical piano at age four, continuing her studies for ten years at The Mannes School of Music. Even at a young age she recognized what mattered most to her… her true love of music. By the time she reached her teens she was giving classical recitals by day, and sneaking out of the house at night to see rock bands perform."I loved the elegance and grace of classical music, but I was also drawn to the outrageous lifestyle and rebelliousness of rock and roll. They both suited my personality, but rock music proved to be more of a creative and original outlet, something I was looking for where I could scream from the rooftops, and the louder the better."
So scream from the rooftops she did. At 18 she played all the keyboards on Kiss Unmasked, while at the same time recording her first record with Spider… and all the while, she continued to play classical music. Always driven by some internal force, Holly continued writing hits, Love Touch for Rod Stewart, Obsession for Animotion, Hide Your Heart  for KISS, Rag Doll with Aerosmith, Space for Cheap Trick, and many more. Her songs have appeared in movies as varied as Thelma and Louise, Mad Max Beyond The Thunderdome, Stewart Little, Thirteen Going On Thirty , What The Bleep, Hot Tub Fantasy, Anchorman ll, Dallas Buyers Club, The Other Woman and on TV shows such as American Idol, The Voice, 30 Rock, Family Guy, The Simpsons, Oprah Winfrey, Nip Tuck, South Park, and most recently, Glee, The Mysteries Of Laura,  Necessary Roughness, and The Following. In 2002 Holly produced and co-wrote the title theme song for the hugely popular cult TV show, Angel. She then went on to write and produce the title theme song for the CBS hit sitcom, Still Standing, which received an ASCAP award for recognition as one of the top TV music themes of 2003, and again in 2004. In addition to writing, Holly recently finished producing the debut pop record for Antonia Bennett, daughter of legendary singer, Tony Bennett, as well as Antonia's first jazz EP, Natural and the eagerly awaited follow-up jazz record of songs from The Great American Songbook, Embrace Me. Thriving on diversity, it's Holly's ability to move from one genre to the next that has given her this thirty year career span in music. Knight has another passion, fine art photography. In her spare time she has traveled all over the world, shooting pictures. Look for an exhibit of her work in 2015 and visit her photography website at www.hollyknightphoto.com. In addition to her various ongoing projects, Holly has begun doing Master Songwriting and Production Classes, as well as special engagements involving lectures and mentoring at Universities and Music Institutions throughout the country. She loves sharing her stories, experiences and feedback with young emerging artists. She is also the proud mother of two sons. Not one to sit back on her laurels and be content with all the success and accolades, Holly is still as passionate about music and as driven as she was in her early twenties. "We all know that the music business has changed drastically from what it used to be. What this calls for is a new plan, and a redefining of how to get the music out there. There are several projects I am working on right now, in particular a rock musical,  featuring many of my  hit songs,  along with four new ones, and a great book which I cowrote with Lissa Forehan. * For synch licensing requests or speaking engagements, please contact Tina Fasbender at Tina@fasbender.net * For easy navigation to hear Holly's archive of songs, please go to the 'music' page on this site and click on any record.